The Flow Wall Desk acknowledges the potential how to combine functionality with art. This results in creating a desk inside one's indoor environment. And only with one twist, it becomes a true joy to have a separate working area when needed. It can be subscribed as a piece of functional art that builds on the design track record of transformations in space. However, this one offers a part of the interior that shifts with time: a cozy workspace during the day becomes a compact wall hanging after being used.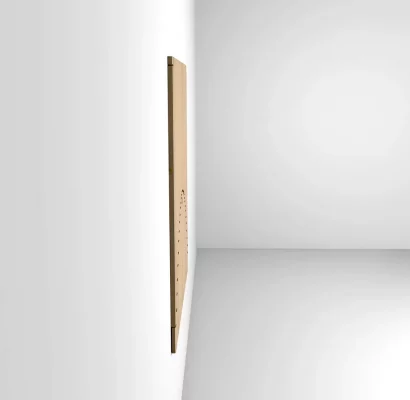 Inspired by recent global events and the longer-term trends that precede them, to devise a statement piece that lends dignity to the digital workspace through craft, warm textures, and durably engineered fastenings. The Flow Wall Desk is adaptable and with the contemporary design elements, it can be used throughout homes, libraries, hotels, and many other inside designations. During the design process, van Embricqs strove to merge the desk's execution with its design formula by creating a cohesive whole.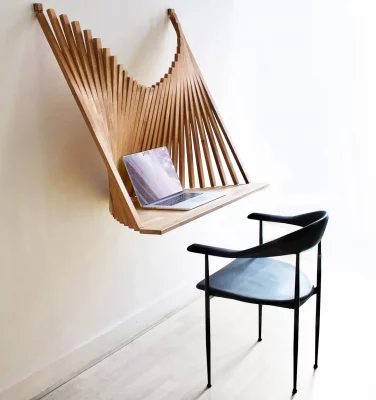 Usability demands that an everyday object such as this should be created with a generalized user's psychology in mind. Vertical element emerges from the wall like a caterpillar with the help of specifically placed hinges. These exposed brass hinges establish a visual rhythm and ensure that the form can follow its function. This led to the notion of a transformation in form and purpose achieved through a single, simple gesture that everyone can familiarize themselves with. With a single turn by hand around its axis, a tabletop is created and once in its horizontal position, the tabletop is supported by wooden slats, creating a more natural look and organic effect that also serves as a screen for more privacy.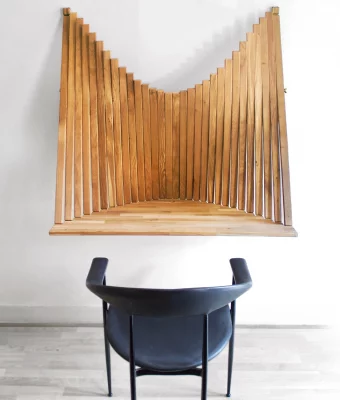 The horizontal work surface is comfortable yet functional due to its depth and width for the seated user and making it perfect for typing and handwriting. Finally, a unique opportunity is created for a temporary work surface and ergonomically adjustable desk in a sunny corner which invites the user to fold that desk away when work is over.
With the finished design appearance, more sustainable material developments are being examined and analyzed for production. And when it comes to functionality, each part of the Flow Wall desk has been specifically engineered without losing the appeal to attract, just like a folding magic trick with a well-kept secret.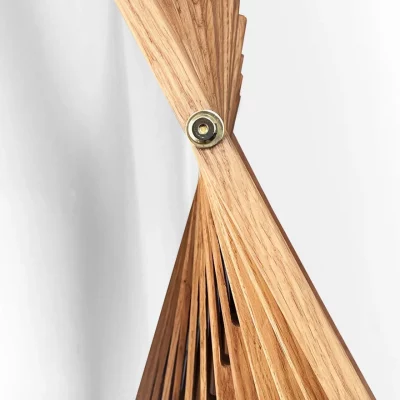 Product Care:

Avoid humid environments and damp as much as possible.
Exposing your product to prolonged sunlight can cause discoloration, and minor yellowing.
When your furniture will be cared for in the appropriate manner it will ensure to remain a source of joy for years to come.
Should any questions arise concerning your item, We will be able to offer assistance.
Related Keyword:
1- Flow Folfable wall Desk Modern Workspace
2- Elegant Transforming Wall Desk 
3- Space-Saving, Eco-Friendly, and Modern Design for Your Inspired Workspace